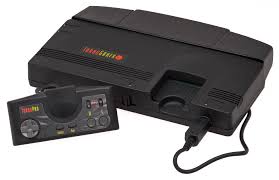 Artículo que nos sirve de introducción al mundo del Turbografx-16 / PC Engine.
El Turbografx-16 de NEC fue la primer consola de "16-Bit" en ser lanzada al mercado. Aparecio por primera vez en 1988 en Japon y se le conocio como el PC Engine, el cual fue un éxito inmediato en aquella region. Un año despues, fue lanzado en EUA en donde se renombro a Turbografx-16 y su precio inicial fue de $189.95.
Las caracterisiticas tecnicas del sistema aunque nada del otro mundo comparadas con otros sistemas de la época (Sega Genesis y SNES por ejemplo) permitieron la creación de muy buenos juegos a la par de los otros sistemas.
Algo que distinguió de entrada al TG16 fué que en lugar de cartuchos lo juegos venían en tarjetas llamadas Turbochips (en America) las cuales eran ligeramente mas grandes que una tarjeta de credito.
El TG16 fué la primer consola con contar con una unidad de CD-ROM, entre los juegos mas notorios para el formato CD se encuentran Ys I y II, Ys III, Gate of Thunder, Bonk 3.
Tiempo después, NEC saco al mercado el TurboExpress, que es una version portatil del mismo TG16 y que permitia utilizar exactamente los mismos turbochips.
Entre los juegos que definieron al sistema tenemos:
– Keith Courage (plataformas mediocre)
– Bonk (excelente juego de plataformas conocido como PC Gengin en Japón)
– Fantasy Zone
– Gate of Thunder
– Lords of Thunder (Winds of Thunder)
– Cotton
– Air Zonk (PC Denjin)
– Super Air Zonk (CD Denjin)
– La saga Bomberman
Y otros tantos más que discutiremos después.